Description
Alexa Echo Show 5
Alexa Echo Show 5 is refurbished, tested, and certified to look and work like new and comes with the same limited warranty as a new device.

See your day clearly with Alexa at the ready, Set alarms and timers, check your calendar or the news, make video calls with the 2 MP camera, and stream music or shows , all with your voice.

Add smart  Alexa to your nightstand , Ease into the day with a routine that turns compatible lights on gradually.

Wake up to your news update, the weather forecast, and your favorite music.

Manage your smart home , Look in when you're away with the built-in camera.

Control compatible devices like cameras, lights, and more using the interactive display, your voice, or your motion.

Connect with video calling , Use the 2 MP camera to call friends and family who have the Alexa app or an Echo device with a screen.

Make announcements to other compatible devices in your home.

 Ask Alexa to play TV shows and movies via Prime Video, Netflix, and more on the 5.5″ screen.

Stream favorites from Amazon Music, Apple Music, Spotify, and others. Subscriptions for some services required.

Put photos on (smart) display , Use Amazon Photos or Facebook to turn your home screen into a digital frame.
Product details:
Screen: 5.5" with 960 x 480 resolution
Speakers : 1 x 1.7"
Camera : 2 MP
Dimensions : 5.8"W x 3.4"H x 2.9"D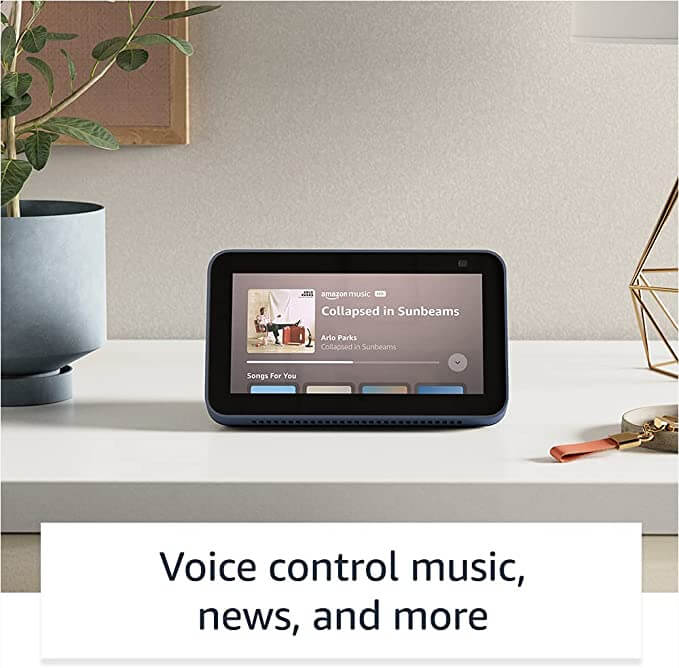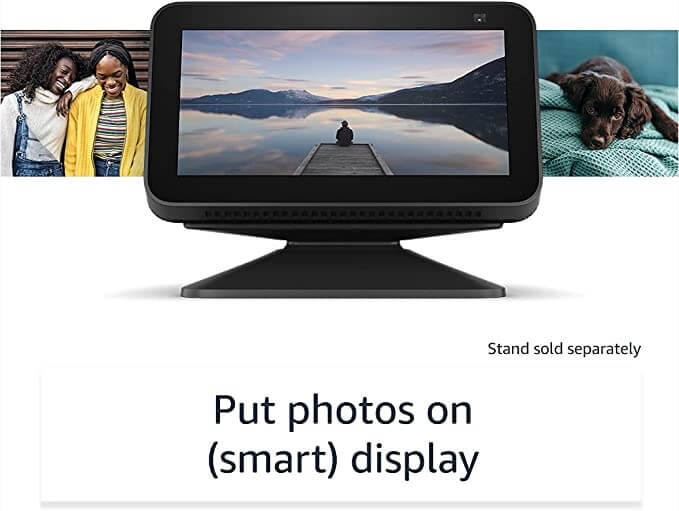 About Alexa 
Amazon Alexa, also known simply as Alexa , is a virtual assistant technology
largely based on a Polish speech synthesiser named Ivona, bought by Amazon in 2013.
It was first used in the Amazon Echo smart speaker and the Echo Dot,
Echo Studio and Amazon Tap speakers developed by Amazon Lab126.
It is capable of voice interaction, music playback, making to-do lists,
setting alarms, streaming podcasts, playing audiobooks,
and providing weather, traffic, sports, and other real-time information, such as news.
Alexa can also control several smart devices using itself as a home automation system.
Alexa was developed out of a predecessor named Ivona which was invented in Poland,
inspired by 2001: A Space Odyssey and bought by Amazon in 2013.
In November 2014, Amazon announced Alexa alongside the Echo.
Alexa was inspired by the computer voice and conversational system on board
the Starship Enterprise in science fiction TV series and movies,
beginning with Star Trek: The Original Series and Star Trek: The Next Generation.
As of April 2019, Amazon had over 90,000 functions ("skills") available for users to download on their Alexa-enabled devices.