Description
Smart plug Support Tuya App
Smart plug :
 Clock and schedule You can power off the toaster in 1 minute or schedule the coffee machine to run at a specific time in the morning.
Remote control Turn on the boiler in advance, enjoy the hot water shower when it arrives at home.
Remote Switch / Smart Timing Control your home devices anytime, anywhere, and you can turn these devices on / off via an IOS or Android controlled smartphone Power monitor You can monitor energy consumption and check the power of the device carefully.
Voice control This smart plug allows voice control with Alexa / Google Assistant.
Intelligent control grouping / real-time anomaly monitoring Energy-saving and safe, reduce the waste of electricity by equipment, while effectively preventing high-quality electrical equipment from heating up with too much power, protecting the life of the equipment.
Radio frequency: 50 meters outdoors depending on building materials and structure.
Specifications :
Protocol :

Zigbee

Product Size : 50*50*80 mm

Power Supply Type :

AC 110-250V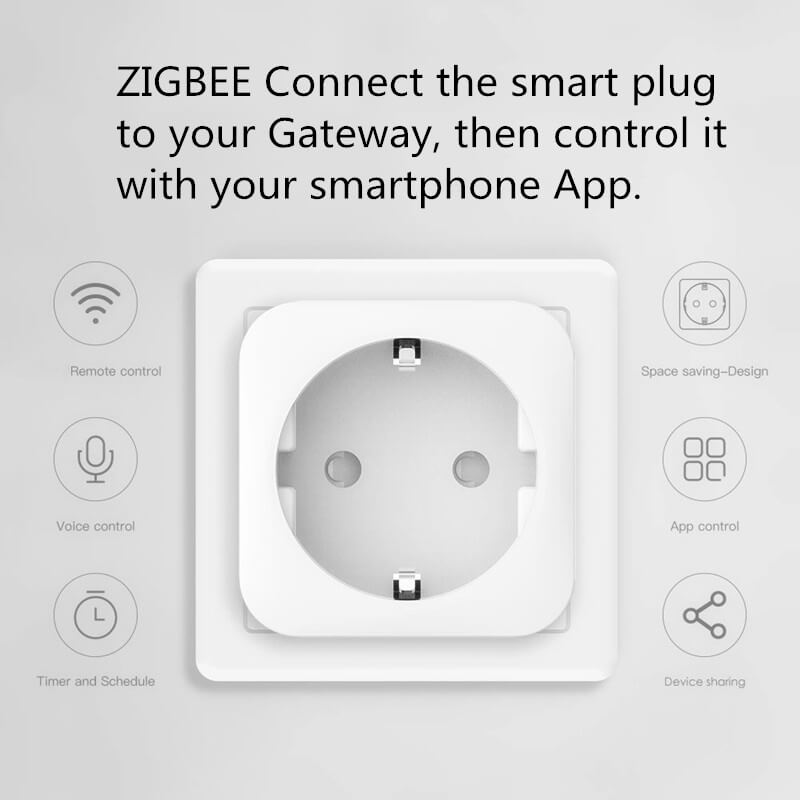 About Tuya App
All in one app
The Tuya platform is all in one application that allows you to choose from a various products and suppliers to create your own smart home system that meets all your needs.
Tuya app uses different communication protocols (Wifi, ZigBee, Bluetooth and more….).
Tuya App is the easiest way to connect and control all your smart home devices without any special requirements.
Benefits
Free of Charge
Use our apps free of charge with no need to invest in development, operations, maintenance or updates.
Users can download them on the App Store, Google Play or other app stores.
Stable and Reliable
Enjoy full compatibility with various smart devices, regular maintenance and updates by our R&D team, and 24/7 technical support.
Any Protocol
Connect and control smart devices with any protocol, including Wi-Fi, Bluetooth and Zigbee.
Total Interoperability
Get cutting-edge IoT technologies and full interoperability with legacy systems.
Focus on product innovation while providing users with innovative, interactive experiences to boost market competitiveness.
Multi-language Support
Our apps support multiple languages, including Chinese, English, German, French and Japanese.
The continuously updated and improved language localization will help you smoothly enter a foreign market.