Description
Smart Pets Fountain
works with Tuya App
Smart Pets Fountain,   Keep hydrated

and healthy with flowing

 

fresh water for pets.

Fresh water running from the fountain, resembling a streaming creek, appeals to cats & Dogs to raise their interest to drink water.
automatic circulation filtration keeps pumping clean water.
App control when you away 

from home.

tank can hold up to 1.9L of water. Cats, middle and small size dogs can be watered for days.
it checks the level automatically with its built-in sensor .
Perfect design of the 

edge height.

Overflowing is prevented when 

pets drink.

Stable reinforcement, safe and anti-slip.
Quad-filtration keeps the water clean 

and fresh
Ever working automatic circulation filtration so keeps pumping clean water.
Compared with the flooding fountains in the market, a high-density filter element consisting of PP cotton, coconut shell activated carbon, ion exchange resin and KDF is introduced.
Water is running through filters to improve its quality and protect the urinary 

system effectively.
Hole reserved for optional sterilizer 

and heater
On the top of tray, there is a hole reserved for the optional sterilizer and heater.
Our pets can drink warm water, even

in winter!
Specifications

Model No:FSL020         FSW030/WF004 (Wi-Fi)
Dimension:180x175x147mm
Material:ABS
Weight:750g
Input Voltage:DC 5V 1A
Capacity:1.9L
Rated Power:≤0.5W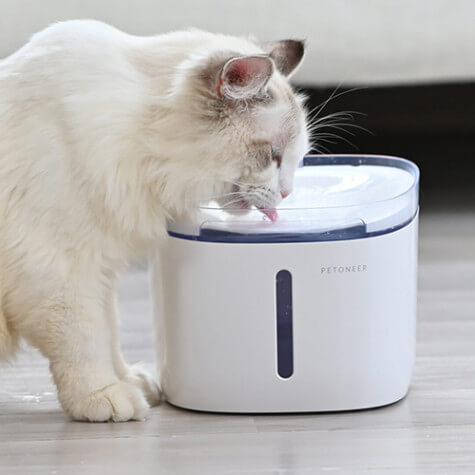 About Tuya App 
All in one app
The Tuya platform is all in one application that allows you to choose from a various products and suppliers to create your own smart home system that meets all your needs. Tuya app uses different communication protocols (Wifi, ZigBee, Bluetooth and more….). Tuya App is the easiest way to connect and control all your smart home devices without any special requirements.