Description
Smart Gas Sensor
Notification to mobile phone via TUYA application.
Alert the user at any time via alarm notifications .
Once activated, the red LED flashes making a loud alarm sound, louder than 70dB.
Plug and play , easy to use, no wiring and no gateway required.
It is used indoor where leakage may occur, such as kitchens, bathroom, hotel, restaurant, canteen, liquefied gas station and warehouse, gas filling station, etc.
Smart Gas Sensor Technical features :
Material: ABS
Working Voltage: AC 85V-250V
Average Consumption: ≤1.5W
Alarm Sound: 70dB/m
Alarm Density: 7%LEL±3%LEL(CH4)
Item Size: 56 * 48 * 48mm / 2.20 * 1.89 * 1.89in
Item Weight: 43g / 1.53oz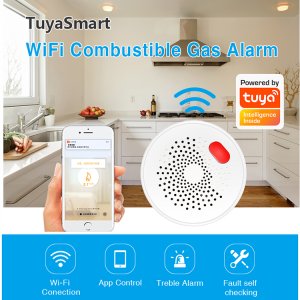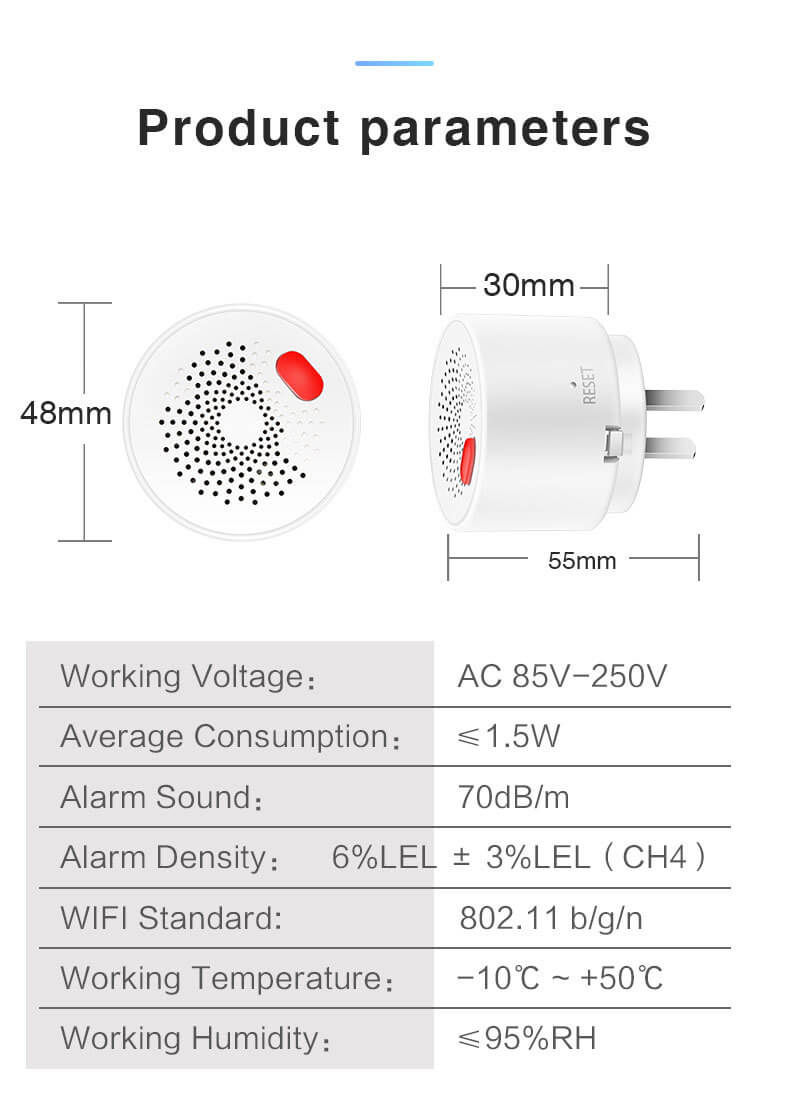 About Tuya App
All in one app
The Tuya platform is all in one application that allows you to choose
from a various products and suppliers to create your own smart home system that meets all your needs.
Tuya app uses different communication protocols (Wifi, ZigBee, Bluetooth and more….).
Tuya App is the easiest way to connect and control all your smart home devices without any special requirements.
Benefits
Free of Charge
Use our apps free of charge with no need to invest in development, operations, maintenance, or updates.
Users can download them on the App Store, Google Play, or other app stores.
Stable and Reliable
Enjoy full compatibility with various smart devices, regular maintenance and updates by our R&D team, and 24/7 technical support.
Any Protocol
Connect and control smart devices with any protocol, including Wi-Fi, Bluetooth, and Zigbee.
Total Interoperability
Get cutting-edge IoT technologies and full interoperability with legacy systems.
Focus on product innovation while providing users with innovative, interactive experiences to boost market competitiveness.
Multi-language Support
Our apps support multiple languages, including Chinese, English, German, French, and Japanese.
The continuously updated and improved language localization will help you smoothly enter a foreign market.