Description
Sonoff smart switch 3 Gang 
Sonoff switch 3 Gang Matched with the eWeLink app .
Remotely control devices through a phone
Turn on/off devices with Amazon Alexa and Google Assistant
Touch control buttons for convenient operation
Set a particular time to turn on/off devices
Customize one or groups of SONOFF devices to turn on/off with a simple tap
Allow you to manage devices when there is no WiFi network in your space
Control the device with your family together via device sharing
Sync the real-time device status to your phone
IFTTT service triggers a bunch of actions
Some can be managed by the 433MHz remote controller (not included)
Neutral Wire is required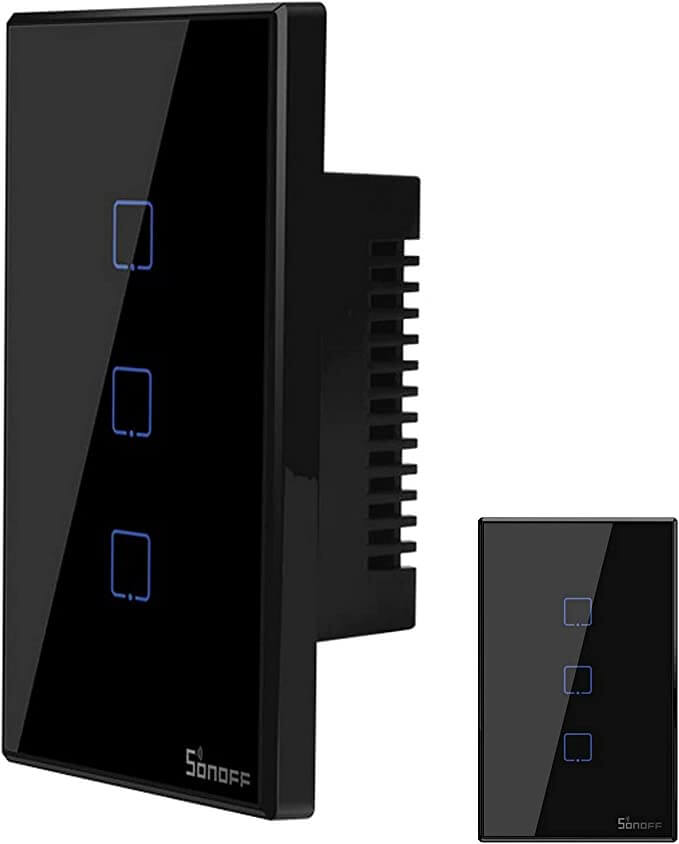 All switches can be controlled remotely using your phone, and devices connected with switches can work independently.
Works with Amazon Alexa and Google Assistant which let you turn on or off your appliances with a voice command, perfect for those need to handle much housework simultaneously.
If worry your monthly electricity bill is overwhelmed by power-hungry appliances the time schedule is a good choice. Set a time for devices and the switches will help you turn on or off them automatically.
Combing the sleek panel and sensitive touch buttons, which adds a modern feeling to your house.
SPECIFICATION:
Product series : smart wall switches
Type : smart switch module
voltage : 100-240V AC 50/60 Hz
current output : 2A / gang
Max.power : 480 w / gang
Led Load :150W/110V/gang,300W/220V/gang
Support 433 MHz RF control : T2/ T3 only
MCU : ESP8285
certification : CE/FCC/ROHS
Color : White / Black
Dimension : 120x74x38mm
weight : 147 g – 165 g
casing material : PC+tempered glass panel
Functions : Remote control , single / count down timing , voice control , share control , smart scene , 433MHz RF control , camera feature , touch control , LAN control .
operating systems : Android & IOS
Wi-Fi : IEEE 802.11 b/g/n 2.4 GHz (2400M – 2483.5M)
Antenna : PCB Board With Antenna
Security Mode : WPA / WPA2
Encryption type : WEP/ TKIP/AES
Applicable place : Indoor
Working temperature : -10ºC~40ºC
Working humidity : 5%- 95% RH non-condensing
Working height : Less than 2000 m
Installation Method : Embedded (120 type ) US Mounting box
Installation type : Screws installation
wiring way : N and L