Description
Alexa Echo Show PIR
Alexa can show you even more, With a 10.1″ HD screen that's designed to move with you, video calls, recipes, and shows are always in view. The speakers deliver premium, directional sound.

Stay in frame, Video call friends and family or take a picture while the 13MP camera with auto-framing and motion keeps you front and center.

Set up compatible Zigbee devices or smart products without a separate hub.

Ask Alexa to show you security cameras, control lights, and adjust thermostats.

Take a look around when you're away ,  Securely access the built-in camera to remotely monitor your home anytime with the Alexa app or other Echo Show devices.
Product details:
Screen : 10.1" with 1280 x 800 resolution
Speakers :2 x 1.0" tweeters + 3.0" woofer
Camera :13 MP with auto-framing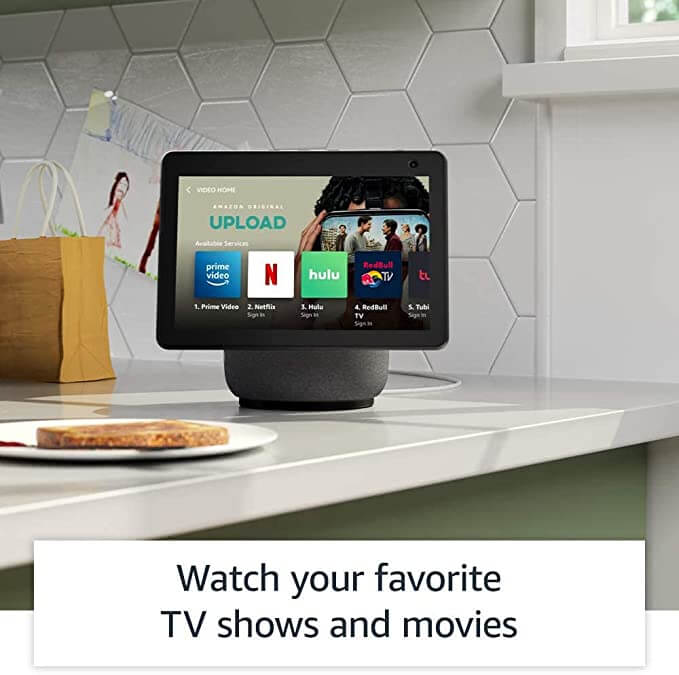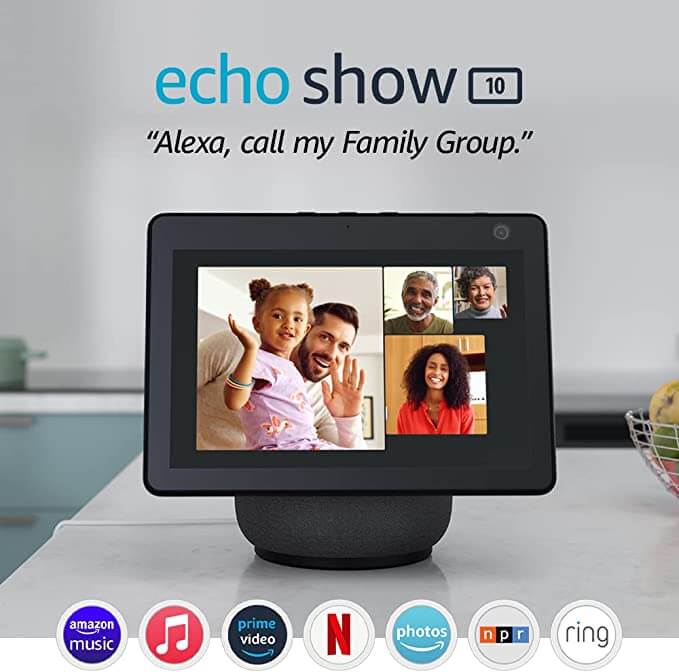 About Alexa 
Amazon Alexa, also known simply as Alexa , is a virtual assistant technology largely based on a Polish speech synthesiser named Ivona, bought by Amazon in 2013.
It was first used in the Amazon Echo smart speaker and the Echo Dot, Echo Studio and Amazon Tap speakers developed by Amazon Lab126.
It is capable of voice interaction, music playback, making to-do lists, setting alarms, streaming podcasts, playing audiobooks and providing weather, traffic, sports and other real-time information, such as news.
Alexa can also control several smart devices using itself as a home automation system.
Alexa was developed out of a predecessor named Ivona which was invented in Poland, inspired by 2001: A Space Odyssey and bought by Amazon in 2013.
In November 2014, Amazon announced Alexa alongside the Echo.
Alexa was inspired by the computer voice and conversational system on board
the Starship Enterprise in science fiction TV series and movies, beginning with Star Trek: The Original Series and Star Trek: The Next Generation.
As of April 2019, Amazon had over 90,000 functions ("skills") available for users to download on their Alexa-enabled devices.
So much entertainment , Ask Alexa to play your favorite shows, music, and podcasts from Prime Video, Netflix, Amazon Music, Spotify and more.
Get daily personalized recipes, cook along hands-free with step-by-step instructions, set timers, and add to your grocery list.
Use Amazon Photos & Alexa for a picture-perfect pairing.
You can turn your home screen into a digital frame, share your favorites with friends and family and even take photos. Plus, Prime members get unlimited photo storage.
 Built with multiple layers of privacy controls including a mic/camera off button and a built-in camera shutter.
Disable motion at any time.