الوصف
ZKTeco ZK-D1065 metal detector gate
ZK-D1065 metal detector gate : Walk Through Metal Detector is mainly used to check the metal items hidden on the body.
Features :
• ZKTeco ZK-D1065 metal detector gate 6 detection zones
• 100 sensitivity levels
•  3.5" LCD display
• People and alarm counting
• Synchronous sound & LED alarm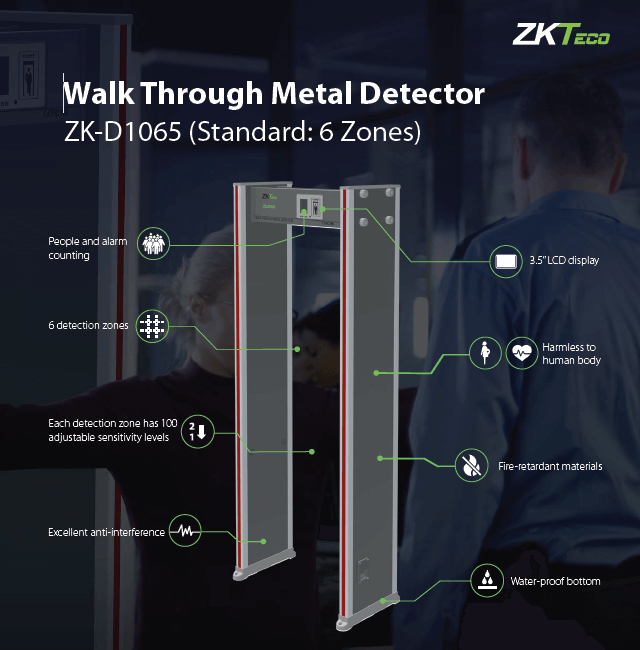 Parameters
Power Supply : AC 100V to 240V
Operating Temperature : -20°C to 55°C
Humidity : < 95% (non-condensing)
Operation Frequency : 5.7KHz to 9.6KHz
Dimensions (L*W*H) : 471 * 831 * 2213 (mm)
Package Dimensions (L*W*H) : 560 * 282 * 2280 (mm)
Package Weight : 40kg
Working Current : 1.4A
Running Power : 16W
Alarm Volume : 85dB
Features:
1. Accurate Positioning: 6 overlapping network detection zone, bilateral transmit and receive, can be accurately positioned to detect objects, intuitive display of the target location.
2. Micro Processor Technology: the scanning electromagnetic wave generated by the microcomputer control circuit, the scanning rate can be precisely controlled.
3. Sensitivity Adjustable: each detection zone has 100 sensitivity levels (0 ~ 99). Preset metal size, you can exclude the coins, keys, jewelry, belt buckle etc.
4. Digital Pulse Technology: digital signal processing and filtering system, has excellent anti-interference ability.
5. Password Protection: only the correct password can change the sensitivity and other parameters. Password with five digital, can be set by the user.
6. Count Statistics: pass count and alarm count.
7. Harmless to human body: harmless to heart pacemaker, pregnant women, magnetic floppy disk, recording tapes etc.